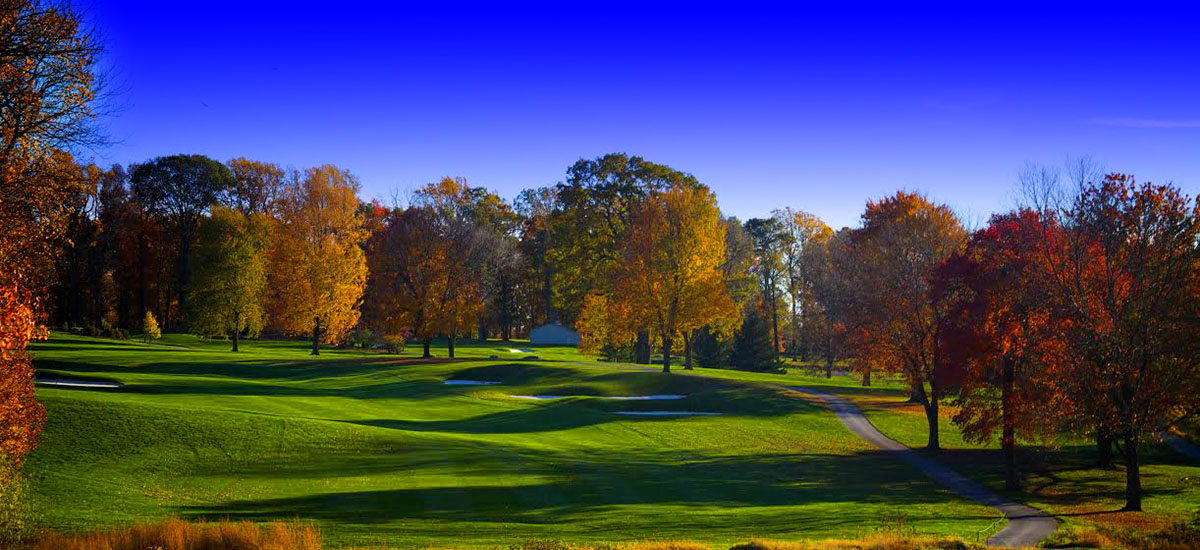 Click events below for tee times and Results
4/24 — Opening Luncheon — Hunt Valley
Tee Times
Tee Times Coming
Results
Results Will Be Posted After Event
5/1 — Suburban Opening Day — 2 Better Balls of 4-some
Results
1ST LOW GROSS – 147
Bonnie Fry
Katie Wille
Taeyeon Song
Becky Rutherford
2ND LOW GROSS – 159
Deb Long
Paula Campbell
Mary Pat Ford
Maria Swindell
1ST LOW NET – 127
Amy Pollokoff
Barbara Coper
Debi Rothstein
Susan Aronoff
2ND LOW NET – 131
Pat Wong
Cari Kramer
Jill Waldman
Amy Passen
3rd LOW NET – 135 (TIE)
Cassie Andrejewski
Patty Andrejewski
Deb Watkins
Nancy Pivec
Tina Thomas
Ann Dixon
Mary Ann McCauley
Julie Kocur
5/8 — Elkridge Ryder Cup
PLEASE ARRIVE 30 MINUTES PRIOR TO YOUR TEE TIME
Chariman – Tina Thomas
Two formats – Better Ball and Alternate shot
BLUE
WHITE
8:00
Kaufman & C. Andrzejewski
Fry & Thomas
8:10
Wille & McGill
Long & Kramer
8:20
McCauley & Aicroth
Passen & Cambell
8:40
Hans & Cupo
P Andrzejewski & Pivec
8:50
Cooper & Dixon
Swindell & Councill
9:00
Gaeng & Watkins
Zuckerberg & Braun
9:10
Matheny & Kafonek
Pusin & Song
9:20
Neuenschwander & Choi
Clark & Edington
Results
BLUE
WHITE (WINNERS)
Kaufman & C. Andrzejewski – 0
Fry & Thomas – 2 POINTS
Wille & McGill  – 1 POINT
Long & Kramer – 1 POINT
McCauley & Aicroth – 0 POINT
Passen & Cambell – 2 POINTS
Hans & Cupo – 1 POINT
P Andrzejewski & Pivec – 1 POINT
Cooper & Dixon 1 POINT
Swindell & Councill – 1 POINT
Gaeng & Watkins – ½ POINT
Zuckerberg & Braun – 1 ½ POINTS
Matheny & Kafonek – 2 POINTS
Pusin & Song – 0 POINTS
Neuenschwander & Choi /DEFAULT
Clark & Edington – 2 POINTS
TOTAL 5 ½
TOTAL  10 1/2
5/11 —Team Match - Quarterfinals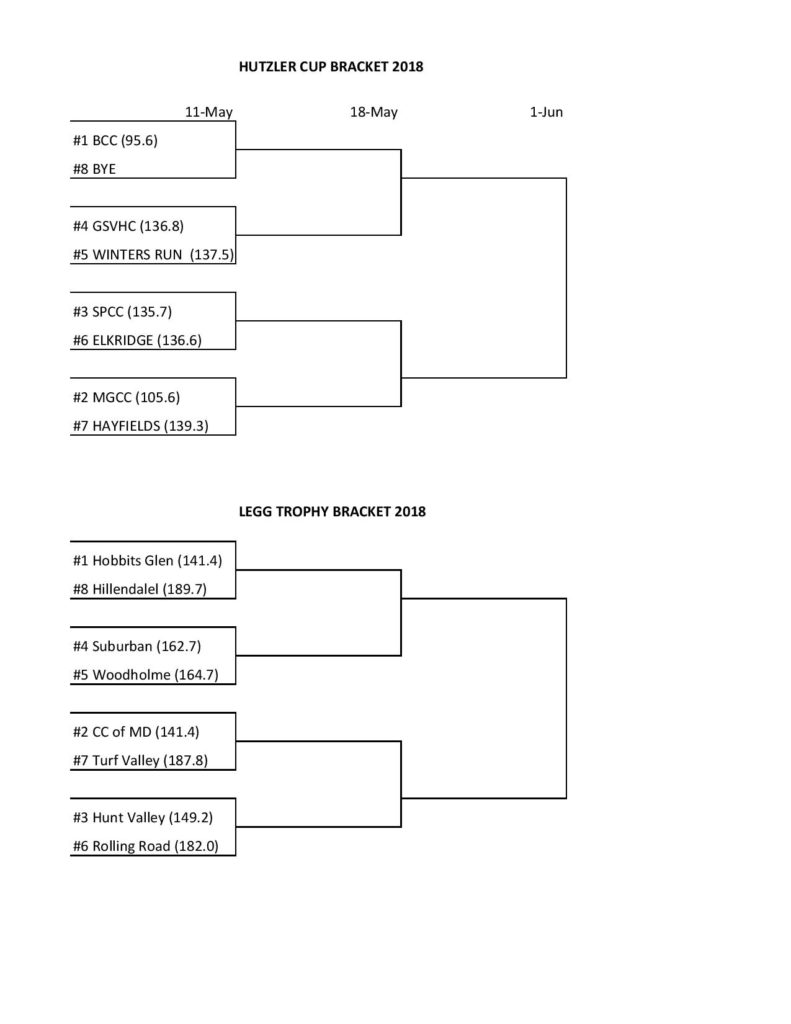 5/15— Maryland Golf & CC
DATE:             May 15, 2018                          COURSE:       Maryland Golf & Country Club
Chairman of the Day:             Bonnie Fry
| | | |
| --- | --- | --- |
| TIME |   |   |
| 9:00 | B. Rutherford | J. Cranford |
| 9:08 | L. Kaufman | K. Wille |
| 9:16 | D. Healey | P. Andrzejewski |
| 9:24 | M. McCauley | K. Murray |
| 9:32 | J. Waldman | J. Passan |
| 9:40 | L. Zukerberg | C. Kramer |
| 9:48 | T. Song | B. Cooper |
| 9:56 | B. Fry | T. Thomas |
| 10:04 | M. Ford | P. Campbell |
| 10:12 | S. Pusin | D. Watkins |
| 10:20 | M. Matheny | S. Kaforek |
| 10:28 | K. Allen | K. Moore |
| 10:36 | D. Aichroth | L. Roebuck |
| 10:44 | P. Schiminger | J. Edington |
Results
| | | |
| --- | --- | --- |
| | LOW GROSS |   |
| 1ST | Bonnie Fry | 80 |
| 2nd | Lisa Kaufman | 81 |
| 3rd | Katie Willie | 84 |
| | Becky Rutherford | 84 |
| | LOW NET | |
| 1ST | Patty Andrzejewski | 85-14=71 |
| 2nd | Deb Watkins | 94-19=75 |
| | Taeyson Song | 94-19=75 |
| 3rd | Jill Waldman | 97-21=76 |
| | Dawn Healey | 94-18=76 |
| | Julie Cranford | 90-14=76 |
| 4th | Kendall Allen | 95-17=78 |
| | Lee Roebuck | 96-18=78 |
| 5th | Mary Pat Ford | 91-12=79 |
| | Kikko Murray | 94-15=79 |
Closest to the pin – Mary Pat Ford at 5' 10"
80
81
84
84
85-14=71
94-19=75
94-19=75
97-21=76
94-18=76
90-14=76
95-17=78
96-18=78
91-12=79
94-15=79
Mary Pat Ford 5' 10"
5/18 — Team Match - Semifinals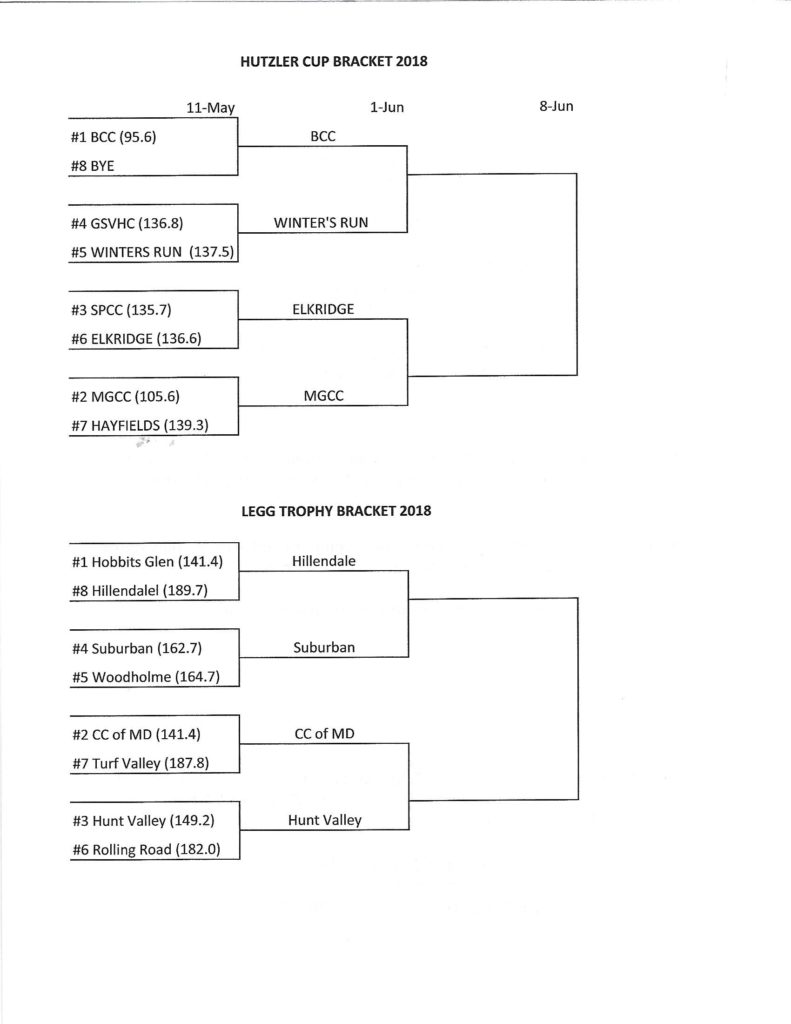 5/22 — Holly Hills (Two Better Balls)
DATE:            May 22, 2018                          COURSE:       Holly Hills
Chairman of the Day:             Roxie Gaeng
| | | | | |
| --- | --- | --- | --- | --- |
| TIME |   |   |   |   |
| 8:30 | L. Kaufman | T. Crosthwait | C. Kramer | J. Waldman |
| 8:40 | B. Rutherford | L. Duncan | L. Zukerberg | M. Matheny |
| 8:50 | D. Watkins | J. Mulcahey | K. Allen | N. Councill |
| 9:00 | L. Kafonek | G. Smyth | P. Andrzejewski | R. Gaeng |
| 9:10 | J. Choi | | | |
| 9:20 | | | | |
| 9:30 | | | | |
Results
CANCELLED DUE TO RAIN
5/31 — CC of Maryland — (Thursday - tee times starting at 10:00)
DATE:             May 31, 2018                          COURSE:       Country Club of Maryland
Chairman of the Day:             Bobby Farr
| | | |
| --- | --- | --- |
| TIME |   |   |
| 10:00 | B. Fry | L. Kaufman |
| 10:08 | D. Rothstein | K. Wille |
| 10:16 | D. Healey | R. Gaeng |
| 10:24 | D. Aichroth | B. Rutherford |
| 10:32 | P. Andrzejewski | R. Lavin |
| 10:30 | J. Tansey | R. Krimski |
| 10:38 | N. Trail | E. DiCicco |
| 10:46 | B. Cooper | C. Kramer |
| 10:54 | L. Zukerberg | C. Keehn |
| 11:02 | M. McCauley | J. Edington |
| 11:10 | J. Waldman | S. Pusin |
Results
| | | |
| --- | --- | --- |
| | LOW GROSS |   |
| 1ST | Lisa Kaufman | 78 |
| 2nd | Bonnie Fry | 79 |
| 3rd | Katie Willie | 81 |
| | LOW NET | |
| 1ST | Barbara Cooper | 84-15= 69 |
| 2nd | Louise Duncan | 86-16= 70 |
| 3rd | Joyce Eddington | 98-27= 71 |
| 4th | Jeanette Tansey | 86-13= 73 |
| | Roxie Gaeng | 90-17= 73 |
| 5th | Diane Aichroth | 88-14= 74 |
| | Becky Rutherford | 82-8= 74 |
Closest to the pin – Becky Rutherford 5' 8"
6/1 — Team Match - Finals

6/5 — ORIOLE TOURNAMENT - Hunt Valley Country Club
Tee Times – 8:30 Shot Gun
DATE:             June 5, 2018                            COURSE:       Hunt Valley Country Club
Chairman of the Day:             Joan Clark 
| | |
| --- | --- |
| |   |
| Lisa Kaufman | Katie Willie |
| Becky Rutherford | Amy Passen |
| Bonnie Fry | Pam Cooling |
| Patty Andrzejewski | Geri Smyth |
| Diane Aichroth | Louise Duncan |
| Barbara Cooper | Nancy Franus |
| Sandy Loys | Mary Braun |
| Ann Dixon | Nancy Pivec |
| Sharon Pusin | Lee Roebuck |
| Judy Frye Jones | Taeyon Song |
| Deb Watkins | Patricia O'Donnell |
| Dorothy Everstine | Stephanie Kafonek |
| Phyllis Schiminger | Susan Dorris |
Results
ORIOLE TOURNAMENT – June 5, 2018
| | | |
| --- | --- | --- |
| 1st Place | Deb Watkins | 70 |
| 2nd Place | Lisa Kaufman | 71 |
| 3rd Place | Patricia O'Donnell | 73 |
| 4th Place | Nancy Pivec | 74 |
| 5th Place | Bonnie Fry | 74 |
| 6th Place | Phyllis Schiminger | 74 |
| 7th Place | Patty Andrzejewski | 74 |
| 8th Place | Louise Duncan | 75 |
| 9th Place | Lee Roebuck | 75 |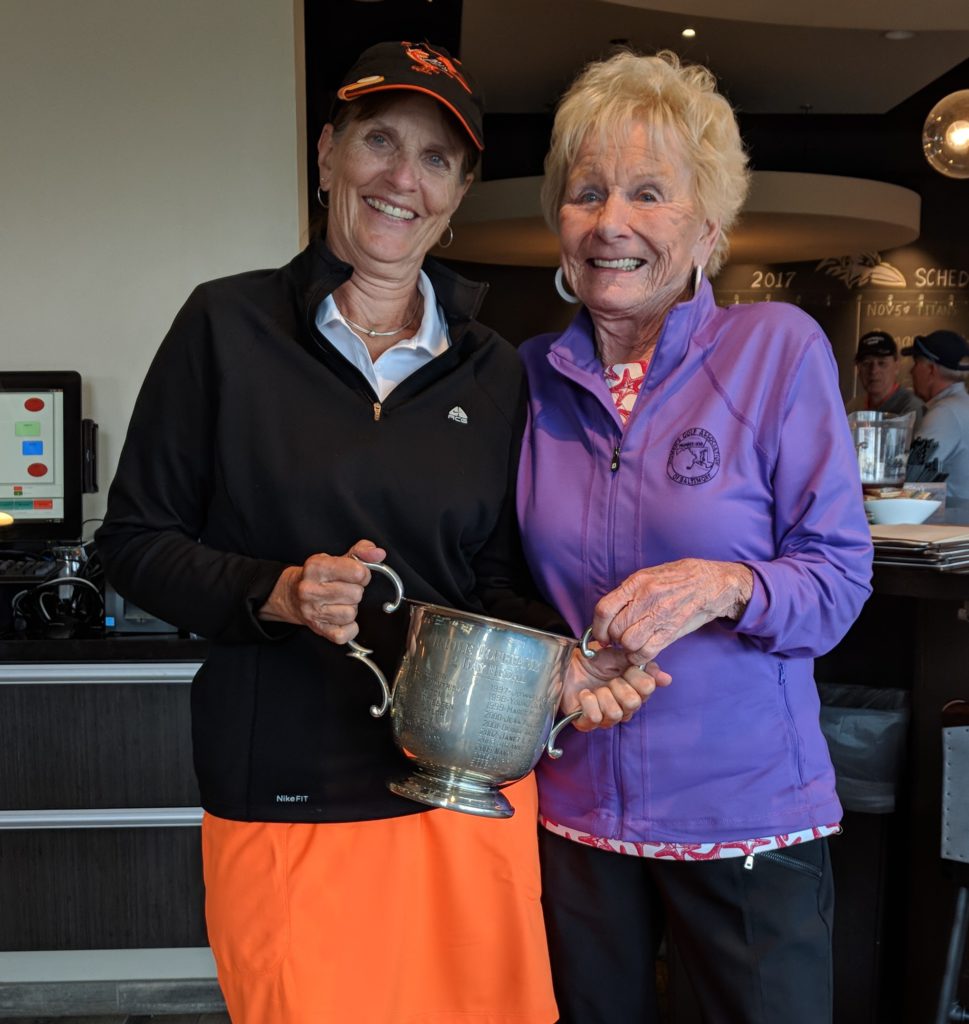 6/7 — ELKRIDGE SENIOR (Thursday)
Tee Times – 8:30 Shotgun
| | | | |
| --- | --- | --- | --- |
| Tina Thomas | Geri Smyth | Faith Riggs | |
| Barbara Cooper | Debi Rothstein | Deb Watkins | Lara Shmerler |
| Nancy Worthington | Sandra Carmen | Judi Hans | Katie Wille |
| Deborah Callard | Anne Dorsey | Susan Carroll | Jonnie Barroll |
| Kari Kramer | Sharon Pusin | Mary Braun | Cassie Andrzjewski |
| Joyce Edington | Phyllis Bryant | Mary Lee Hormes | Judy Jones |
| M.A. McCauley | Kathy Miles | Debbie Dove | Amy Owens |
| Christy DiPietro | Ann Dixon | Susan Dorris | Gail Wronowski |
| Bonnie Fry | Sally Ratcliffe | Lisa Kaufman | Renee Schilling |
| Lindsay Hardesty | Chris White | Betty Rommel | Bobby Farr |
| Bernie Carroll | Becky Rutherford | Debbie Coleman | Wendy Willetts |
| TB Blue | Midge Thursby | Brooke Wagner | |
| Patti Andrzjewski | Karen McGee | Roxie Gaeng | |
Results
| | | | |
| --- | --- | --- | --- |
| OVERALL FIELD – GROSS | NAME | CLUB | SCORE |
| 1st Gross – Mower Bowl | Bonnie Fry | MGCC | 75 |
| 2nd Gross – Thursby Bowl | Christy DiPietro | GSVHC | 78 |
| OVERALL FIELD – NET | | | |
| 1st Net – WGA Bowl | Lindsay Hardesty | Elkridge | 69 |
| 2nd Net – Pinkard Bowl | Laura Shmerler | Woodholme | 70 |
| 3rd Net | Maria Swindell | Elkridge | 73 |
| 4th Net | M. A. McCauley | Winter's Run | 73 |
| 5th Net | Wendy Willets | Hayfields | 73 |
| AGE CATEGORIES – GROSS ONLY | | | |
| 50 – 59 | | | |
| 1st Gross – Jackson Bowl | Lisa Kaufman | Holly Hills | 76 |
| 2nd Gross | Becky Rutherford | MGCC | 79 |
| 60 – 69 | | | |
| 1st Gross – Peterson Plate | Judy Hans | Chartwell | 85 |
| 2nd Gross | Tina Thomas | Elkridge | 85 |
| 70 – 79 | | | |
| 1st Gross – Nelson Pitcher | Ann Dixon | GSVHC | 93 |
| 2nd Gross | Deborah Callard | Elkridge | 94 |
| 80 – 89 | | | |
| 1st Gross – Appling Bowl | T. D. Blue | GSVHC | 108 |
| 2nd Gross | Midge Thursby | Woodholme | 121 |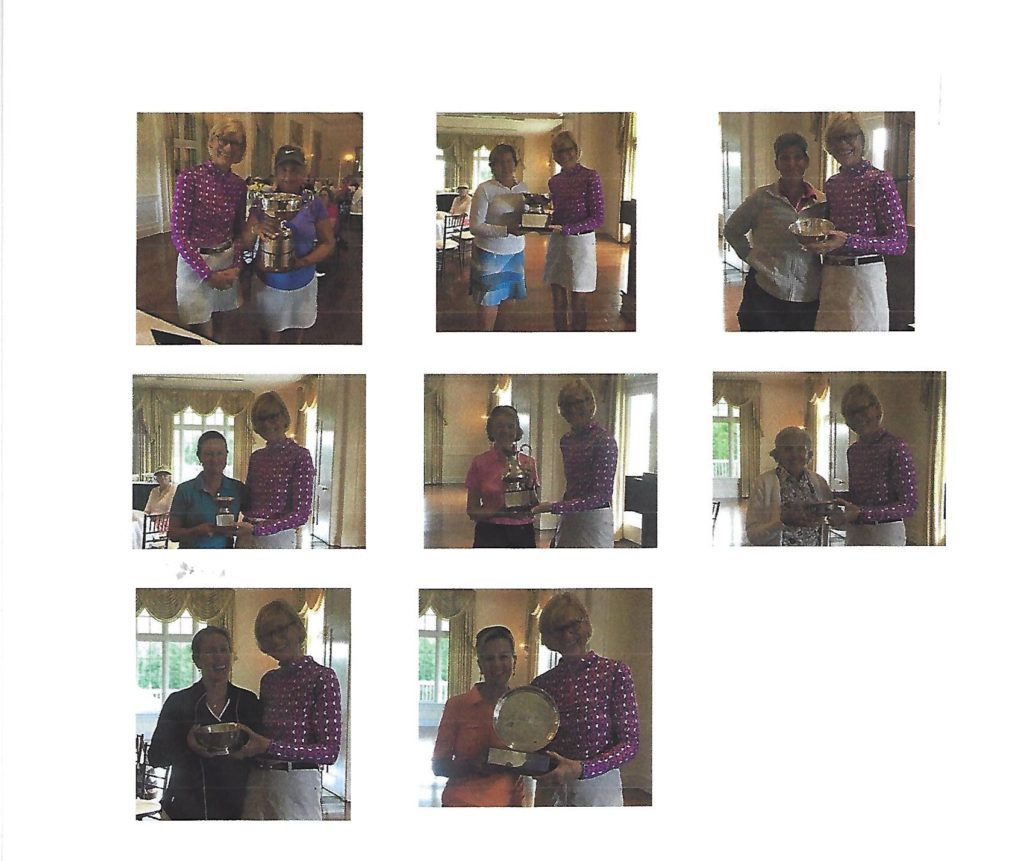 6/8 — Team Match Final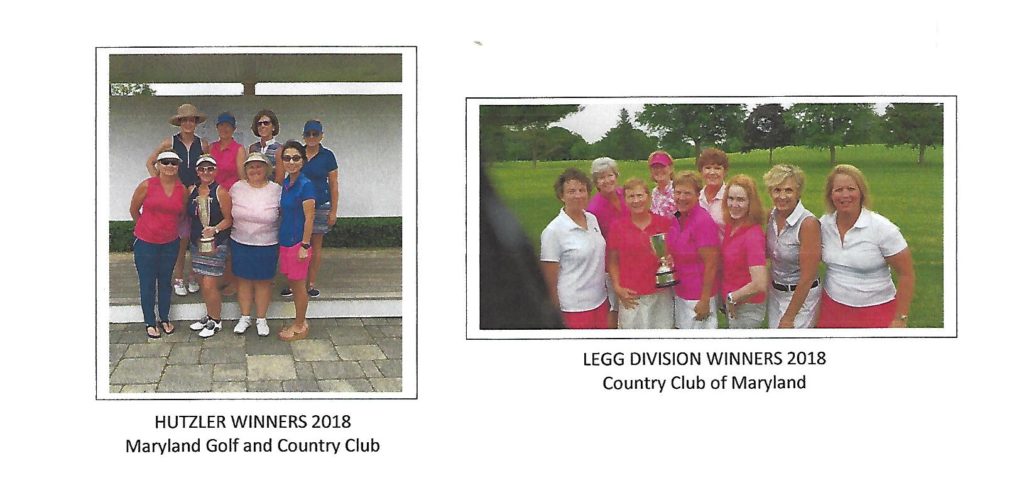 6/12 — Woodholme (front and back)
Tee Times
DATE:             June 12, 2018                                      COURSE:       Woodholme
Chairman of the Day:             Debi Rothstein
| | | | | |
| --- | --- | --- | --- | --- |
| TIME | FRONT | FRONT | BACK | BACK |
| 8:00 | K. Wille | L. Zukerberg | D. Rothstein | A. Kraus |
| 8:07 | D. Healey | J. Clark | B. Rutherford | L. Duncan |
| 8:14 | N. Councill | B. Cooper | D. Watkins | M. Thursby |
| 8:21 | S. Pusin | J. Choi | M. Hormes | P. Schiminger |
| 8:28 | G. Fidler | R. Krimski | T. Song | S. Kafonek |
| 8:35 | C. Kramer | R. Shilling | J. Edington | M. Braun |
| 8:42 | M. McCauley | J. Kocur | L. Schneidereith | B. Oletsky |
| 8:49 | K. Moore | L. Roebuck | B. Fry | J. Hans |
| 8:56 | D. Bustard | P. Milani | R. Lavin | G. Grem |
| 9:03 | | | | |
| 9:10 | | | | |
Results
WOODHOLME RESULTS – June 12, 2018
| | | |
| --- | --- | --- |
| | LOW GROSS |   |
| 1ST | Andrea Kraus | 80 |
| 2nd | Bonnie Fry | 87 |
| 3rd | Becky Rutherford | 89 |
| | LOW NET | |
| 1ST | Louise Duncan | 88-14=74 |
| 2nd | Roxie Gaeng | 92-16=76 |
| 3rd | Debi Rothstein | 92-15=77 |
| 4th | Judi Hans | 93-13=80 |
| 5th | Rebecca Krimski | 92-12=81 |
Closest to the pin – Dawn Healy 12' 7"
Low Putts – Barb Cooper (29)
6/19 — Sparrows Point — 2-Lady Scramble
Tee Times – 8:30 Shotgun Start
DATE:            June 19, 2018                                      COURSE:       Sparrows Point
Chairman of the Day:             Julie Kocur
| | | | | |
| --- | --- | --- | --- | --- |
| TIME |   |   |   |   |
| 8:30 | M. Matheny | K. Miles | C. Kramer | P. Wong |
| Shotgun | K. O'Halloran | C. Owens | M. Cupo | J. King |
| | K. Allen | K. Moore | L. Roebuck | D. Aichroth |
| | L. Zukerberg | J. Waldman | L. Kaufman | R. Gaeng |
| | C. Keehn | R. Shilling | G. Fidler | G. Smyth |
| | P. Milani | J. Turnbaugh | B. Rutherford | J. Cranford |
| | J. Jones | M. Thursby | J. Edington | B. Rommel |
| | R. Lavin | T. Aylsworth | E. DiCicco | H. Selinger |
| | S. Arnoff | D. Rothstein | P. Bryant | J. Mulcahey |
| | P. O'Donnell | L. Fitzgerald | S. Pusin | Needs Partner |
Results
SPARROWS POINT – TWO LADY SCRAMBLE
| | | |
| --- | --- | --- |
| | LOW GROSS |   |
| 1ST | Rutherford / Cranford | 70 |
| | Kaufman / Gaeng | 70 |
| 2nd | Aronoff / Rothstein | 74 |
| 3rd | Fidler / Smyth | 77 |
| | Milani / Turnbaugh | 77 |
| | LOW NET | |
| 1st | Kramer / Wong | 74 – 7 = 67 |
| | Allen / Moore | 74 – 7 = 67 |
| | Cupo / King | 75 – 8 = 67 |
| 2nd | Roebuck / Aichroth | 76 -8 = 68 |
| 3rd | Matheny / Miles | 80 – 9 = 71 |
| 4th | Zukerber / Waldman | 80 – 8 = 72 |
| | Odonnell / Fitzgerald | 81 – 9 = 72 |
| | Jones / Thursby | 82 – 10 = 72 |
| 5th | O'Halloran / Owens | 80 – 6 = 74 |
6/26 — Eagle's Nest
Tee Times
DATE:             June 26, 2018                                      COURSE:       Eagle's Nest
Chairman of the Day:             March Klein
| | | |
| --- | --- | --- |
| TIME |   |   |
| 8:03 | Kendall. Allen  14.3 | Rebecca Krimski  11.0 |
| 8:12 | Tina Thomas 11.4 | Taeyeon Song 15.7 |
| 8:21 | Diane Aichroth 12.9 | Jean Mulcahey 26.3 |
| 8:30 | Bonnie Fry 3.1 | Cassie Andrzejewski 10.8 |
| 8:39 | Dawn Healey 15.0 | Debi Rothstein 13.9 |
| 8:48 | Barbara Cooper 13.6 | Becky Rutherford 7.0 |
| 8:57 | Midge Thursby 24.1 | Judy Jones 16.0 |
| 9:06 | Cari Kramer 12.6 | Deb Watkins 16.2 |
| 9:15 | Ginny Grem 29.2 | Linda Schneidereith 24.2 |
| 9:24 | Amy Owens 14.1 | Mary Ann McCauley 12.6 |
| 9:33 | Sharon Pusin 14.7 | Lisa Kaufman  3.5 |
| 9:42 | Jeanette Tansey 11.6 | Theresa  Aylesworth 17.9 |
| 9:51 | Joyce Edington 23.8 | Betty Rommel 24.5 |
| 10:00 | Stephanie Kafonek 17.6 | Mary Braun 14.3 |
| 10:09 | Louise Duncan 13.1 | Katie Wille 7.5 |
| 10:18 | March Klein 9.4 | Anne Marie Hudak 18.8 |
Results
EAGLE'S NEST – 6/26/2018
| | | |
| --- | --- | --- |
| | LOW GROSS |   |
| 1st | Bonnie Fry | 81 |
| 2nd | Tina Thomas | 85 |
| 3rd | Lisa Kaufman | 87 |
| | LOW NET | |
| 1st | Deb Watkins | 85-19=66 |
| 2nd | Betty Rommel | 99-28=71 |
| 3rd | Debi Rothstein | 90-16=74 |
| 4th | Cari Kramer | 91-15=76 |
| | Louise Duncan | 91-15=76 |
| 5th | Kendall Allen | 91-14=77 |
| | Amy Owen | 93-16=77 |
| | Dawn Healy | 94-17=77 |
| | Sharon Pusin | 94-17=77 |
7/10 — Green Spring Valley Hunt Club
Tee Times
DATE:            July 10, 2018                                      COURSE:       Green Spring
Chairman of the Day:             Ann Dixon
| | | | | |
| --- | --- | --- | --- | --- |
| TIME |   |   |   |   |
| 8:00 | L. Zukerberg | B. Cooper | J. Turnbaugh | J. Jones |
| 8:10 | D. Rothstein | B. Rutherford | L. Kaufman | T. Song |
| 8:20 | K. Allen | C. Owens | K. Murray | J. Hans |
| 8:30 | J. Kocur | D. Healey | J. Smyth | S. Ford |
| 8:40 | L. Roebuck | A. Thomas | D. Watkins | R. Gaeng |
| 8:50 | D. Aichroth | P. O'Donnell | M. Thursby | T. Blue |
| 9:00 | G. Fidler | A. Pollokoff | P. Wong | S. Pusin |
| 9:10 | J. Clark | G. Grem | L. O'Donnell | M. McCauley |
| 9:20 | J. Choi | C. Keehn | C. Andrzejewski | L. Schneidereith |
| 9:30 | L. Duncan | T. Bosica | C. Kramer | J. Waldman |
| 9:40 | J. Tansey | K. Wille | J. Winchester | B. Farr |
| 9:50 | B. Fry | A. Kraus | J. Edington | R. Lavin |
| 10:00 | M. Matheny | R. Shilling | M. Braun | S. Kafonek |
Results
Green Spring Hunt Club – 7/10/2018
| | | |
| --- | --- | --- |
| | LOW GROSS |   |
| 1st | Andrea Kraus | 76 |
| 2nd | Lisa Kaufman | 78 |
| 3rd | Katie Willie | 85 |
| | Pat Wong | 85 |
| | LOW NET | |
| 1st | Maria Swindell | 84-15=69 |
| | Debi Rothstein | 83-14=69 |
| 2nd | Barb Cooper | 86-16=70 |
| | Louise Duncan | 83-13=70 |
| | Maggie Matheny | 86-16=70 |
| 3rd | Stephanie Kafonek | 92-19=73 |
| | Cari Kramer | 87-14=73 |
| 4th | Teri Bosica | 92-18=74 |
| | Joyce Edington | 99-25=74 |
| | Suz Ford | 88-14=74 |
| | Judi Hans | 85-11=74 |
| | Renee Shilling | 96-22=74 |
| | Taeyeon Song | 92-18=74 |
| | Jill Waldman | 93-19=74 |
| 5th | Mary Braun | 90-15=75 |
Closest to the pin – Lisa Kaufman
7/17 — Hillendale Country Club
Tee Times
DATE:             July 17, 2018                                      COURSE:       Hillendale
Chairman of the Day:             Maggie Matheny
| | | |
| --- | --- | --- |
| TIME |   |   |
| 8:00 | A. Passen | D. Rothstein |
| 8:07 | T. Song | A. Thomas |
| 8:14 | D. Aichroth | T. Thomas |
| 8:21 | J. Jones | M. Hormes |
| 8:28 | B. Cooper | T. Bosica |
| 8:35 | J. Hans | L. Tice |
| 8:42 | M. McCauley | L. Duncan |
| 8:49 | S. Pusin | B. Rutherford |
| 8:56 | K. Miles | J. Choi |
| 9:03 | S. Kafonek | M. Barkley |
| 9:10 | M. Thursby | A. Dixon |
| 9:17 | C. Kramer | N. Pivec |
| 9:25 | M. Braun | G. Smyth |
| 9:32 | L. Schneidereith | G. Grem |
| 9:39 | M. Matheny | J. Clark |
| 9:46 | L. Roebuck | S. Carroll |
Results
Hillendale Country Club – 7/17/2018
| | | |
| --- | --- | --- |
| | LOW GROSS |   |
| 1st | Geri Smyth | 80 |
| 2nd | Becky Rutherford | 82 |
| 3rd | Mary Barkley | 85 |
| | Louise Duncan | 85 |
| | LOW NET | |
| 1st | Maggie Matheny | 82-17=65 |
| 2nd | Taeyeon Song | 84-18=66 |
| 3rd | Maria Swindell | 88-16=72 |
| | Linda Schneidereith | 97-25=72 |
| 4th | Sharon Pusin | 90-17=73 |
| 5th | Judi Hans | 86-12=74 |
Closest to the pin – Midge Thursby  12' 4"
7/24 — Hunt Valley Country Club
Tee Times
DATE:                        July 24, 2018                                      COURSE:      Hunt Valley
Chairman of the Day:                      Joan Clark
| | | |
| --- | --- | --- |
| TIME |   |   |
| 8:30 | L. Kaufman | A. Kraus |
| 8:37 | B. Fry | J. Mulcahey |
| 8:44 | L. Zukerberg | C. Keehn |
| 8:51 | J. Kocur | T. Bosica |
| 8:58 | L. Roebuck | T. Song |
| 9:05 | M. McCauley | G. Smyth |
| 9:12 | J. Jones | P. Milani |
| 9:19 | C. Kramer | P. Wong |
| 9:26 | A. Pollokoff | B. Cooper |
| 9:33 | J. Edington | M. Hormes |
| 9:40 | K. Miles | B. Rommel |
| 9:47 | A. Passen | J. Waldman |
| 9:54 | J. Clark | S. Sosnowski |
| 10:01 | D. Watkins | R. Lavin |
| 10:08 | M. Braun | M. Klein |
| 10:15 | S. Kafonek | L. Duncan |
Results
Rain Out – Cancelled
7/25— GREINER TITLEHOLDERSS TOURNAMENT @ Caves Valley (Wed.)
Tee Times:  see August 20th for updated tee times assignments
Rain Out – Postponed until August 20th.  Deadline to register is August 6th.
7/26 — Baltimore / Washington Team Match @ Woodmore

The Washington team won the team match again this year, 10-8. It was a very close match that actually came down to the last putt of the last hole. Andrea Kraus and Sally Ratcliffe won 2 ½ points; Bonnie Fry and Lisa Kaufman won 3 points; Becky Rutherford and Debbie Long won a point; and Tara Coates and Christy DiPietro won 1 ½ points.
7/31 — Turf Valley Country Club
Tee Times
DATE:             July 31, 2018                                      COURSE:       Turf Valley
Chairman of the Day:             Teri Bosica
| | | |
| --- | --- | --- |
| TIME |   |   |
| 8:30 | D. Rothstein | M. Klein |
| 8:37 | D. Watkins | T. Song |
| 8:44 | L. Duncan | L. Fitzgerald |
| 8:51 | L. Grabarek | S. Sosnowski |
| 8:58 | C. Kramer | K. O'Halloran |
| 9:05 | B. Cooper | P. O'Donnell |
| 9:12 | L. Kaufman | B. Rutherford |
| 9:19 | K. Miles | M. Hormes |
| 9:26 | M. Thursby | J. Clark |
| 9:33 | B. Fry | R. Krimski |
| 9:40 | M. Matheny | J. Mulcahey |
| 9:47 | E. DiCicco | H. Selinger |
| 9:54 | J. Edington | J. Jones |
| 10:01 | D. Bustard | J. Turnbaugh |
Results
Turf Valley – 7/31/2018
LOW GROSS
 
1st
Lisa Kaufman
79
2nd
Becky Rutherford
82
3rd
Rebecca Krimski
91
LOW NET
1st
Debi Rothstein
87-15=72
2nd
Bonnie Fry

Judi Hans

83-5=78

91-13=78

3rd
Carrie Kramer

Judy Jones

95-16=79

98-19=79

4th
Louise Duncan

Joyce Edington

Pat O'Donnell

94-14=80

108-28=80

100-20=80

5th
Kathy O'Halloran
96-14=82
8/7 — Hayfields Country Club
Tee Times
DATE:   August 7, 2018                                             COURSE:       Hayfields
Chairman of the Day:             Mary Barkley
| | | |
| --- | --- | --- |
| TIME |   |   |
| 8:30 | M.  Cupo | J. Turnbaugh |
| 8:37 | B. Fry | J. Jones |
| 8:44 | L. Kaufman | R. Gaeng |
| 8:51 | J. Tansey | C. Owens |
| 8:58 | L. Roebuck | K. Allen |
| 9:05 | D. Olfson | D. Cooper |
| 9:12 | D. Rothstein | B. Cooper |
| 9:19 | C. Kramer | P. Wong |
| 9:26 | J. Kocur | A. Pollokoff |
| 9:33 | A. Dixon | J. Choi |
| 9:40 | N. Pivec | R. Lavin |
| 9:47 | K. Wille | D. Healey |
| 9:54 | J. Edington | G. Smyth |
| 10:03 | M. Matheny | M. McCauley |
| 10:10 | D. Watkins | M. Barkley |
| 10:17 | C. Keehn | S. Kafonek |
| 10:24 | K. O'Halloran | D. Aichroth |
| 10:31 | M. Braun | T. Song |
| | | |
Results
Hayfields – 8/7/2018
| | | |
| --- | --- | --- |
| | LOW GROSS |   |
| 1st | Bonnie Fry | 76 |
| 2nd | Denise Cooper | 78 |
| 3rd | Lisa Kaufman | 79 |
| | LOW NET | |
| 1st | Deb Watkins | 84-16=68 |
| 2nd | Mary Barkley | 83-13=70 |
| 3rd | Tayeon Song | 89-18=71 |
| 4th | Julie Kocur | 90-18=72 |
| 5th | Katie Willie | 83-10=73 |
Closest to the Pin = Diane Aichroth  8'4"
8/13 and 8/14 — WGA CHAMPIONSHIP — Woodholme (Mon. & Tues.)
Tee Times
WGA Championship
Tuesday August 14, 2018
| | | | |
| --- | --- | --- | --- |
| PLAYER 1 | PLAYER 2 | START TIME | FLIGHT |
| Andrea Kraus | Lisa Kaufman | 8:00 | champ |
| Bonnie Fry | Sally Ratcliffe | 8:08 | champ |
| Becky Rutherford | Christy DiPietro | 8:16 | champ |
|   |   |   |   |
| Mary Ann McCauley | Tina Thomas | 8:24 | first |
| Louise Duncan | Mary Barkley | 8:32 | first |
| Debi Rothstein | Diane Aichroth | 8:40 | first |
|   |   |   |   |
| Norma Toal | Sandy Loys | 8:48 | second |
| Ann Dixon | Taeyon Song | 8:56 | second |
| Krista Bedford | Audrey Thomas | 9:04 | second |
|   |   |   |   |
|   |   |   |   |
Results
WGA CHAMPIONSHIP 2018
| | |
| --- | --- |
| OVERALL WINNER | Andrea Kraus – 76 |
| SENIOR WINNER | Bonnie Fry – 81 |
| CHAMPION FLIGHT | |
| Winner | Sally Ratcliffe – 83 |
| Runner Up | Lisa Kaufman – 84 |
| FIRST FLIGHT | |
| Winner | Mary Barkley – 91 |
| Runner Up | Louise Duncan – 94 |
| Net Winner | Diane Aichroth   97-14=83 |
| Net Runner Up | Tina Thomas    96-12=84 |
| SECOND FLIGHT | |
| Winner | Norma Toal  – 94 |
| Runner Up | Taeyon Song  – 98 |
| Net Winner | Sandy Loys   95-16=79 |
| Net Runner Up | Krista Bedford   98-18=80 |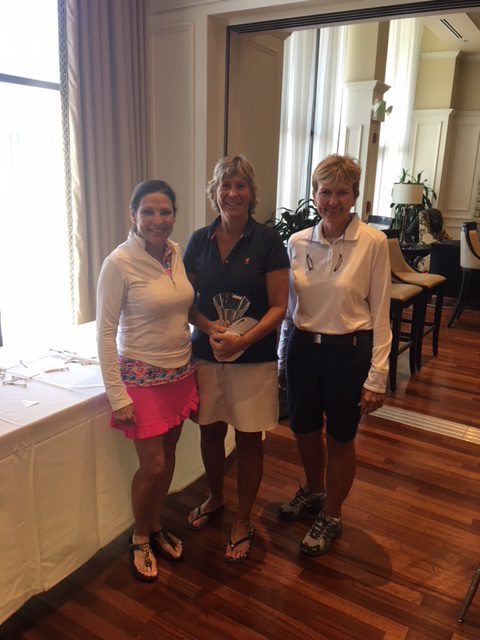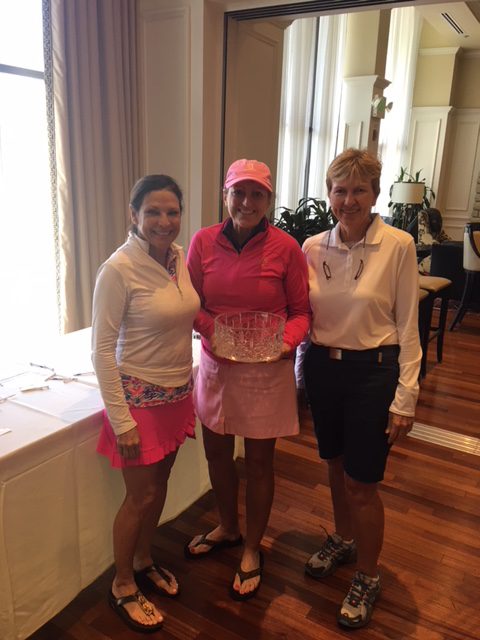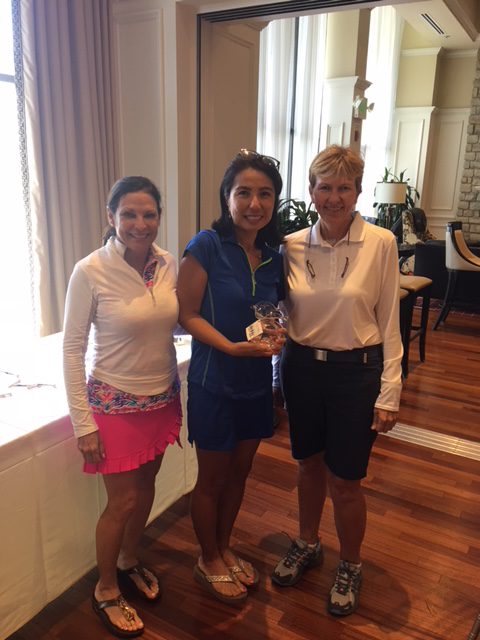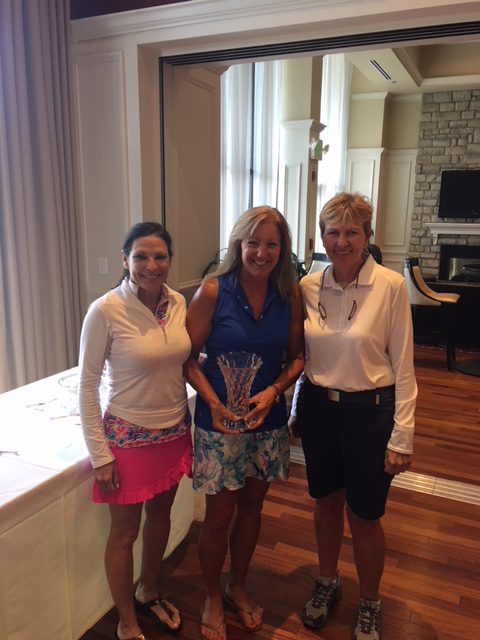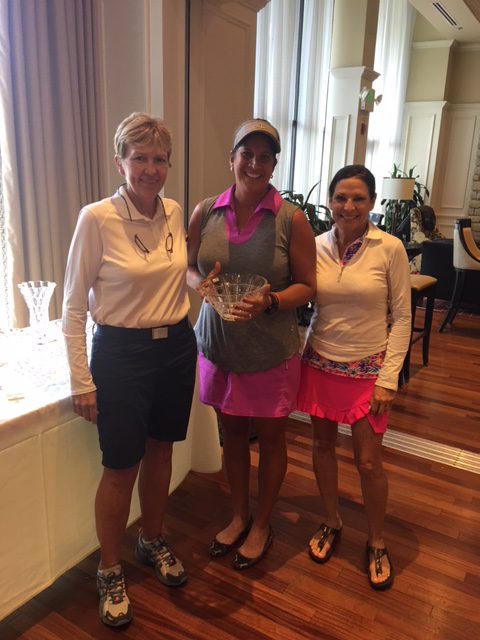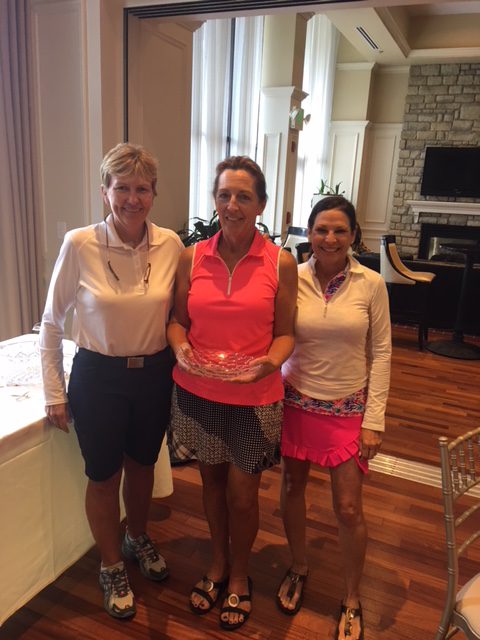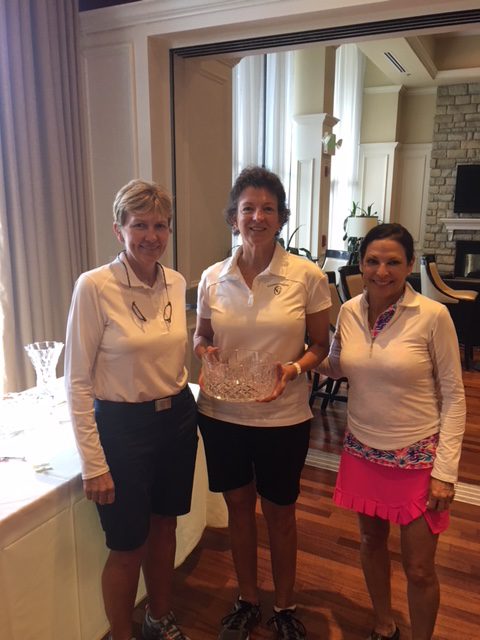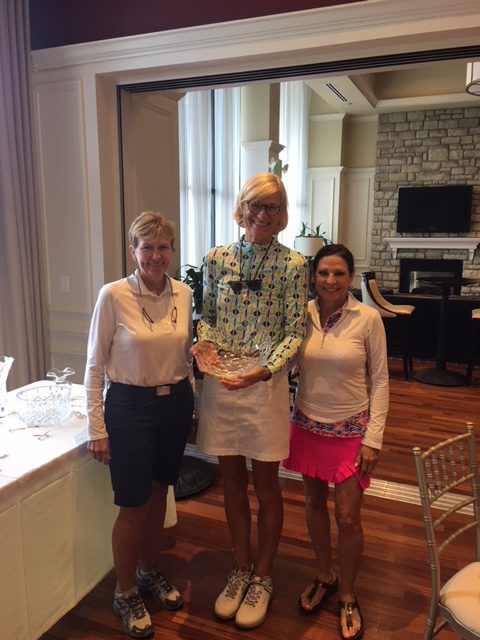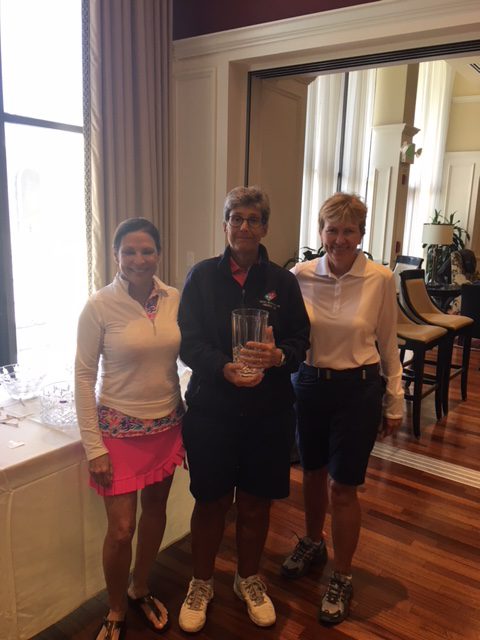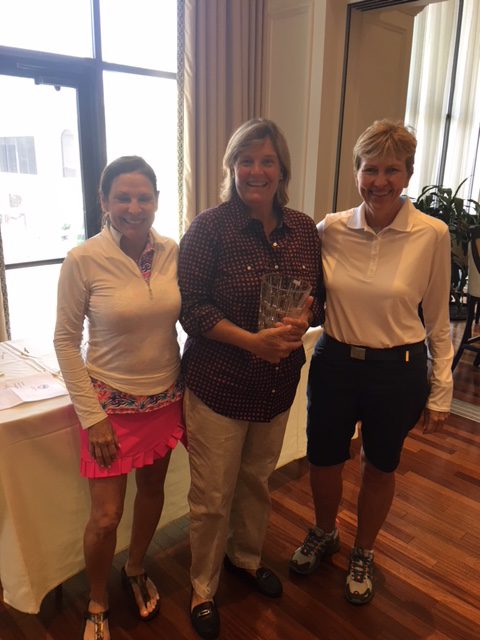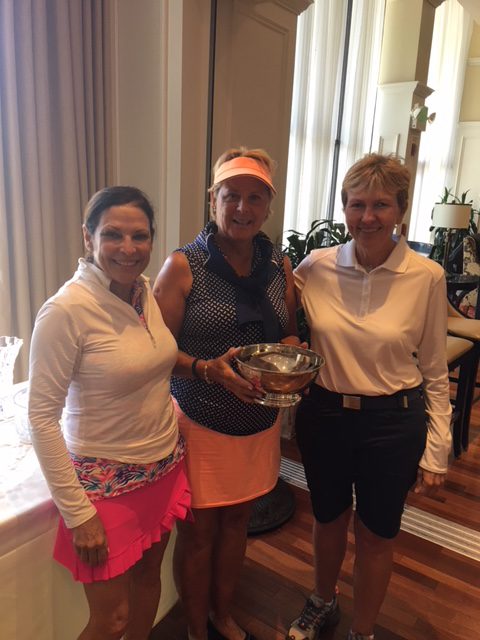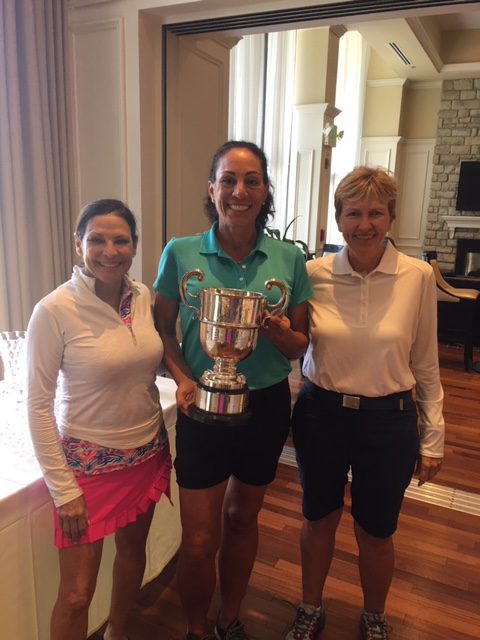 8/17 — MIXED SCRAMBLE — Hillendale CC (Friday - 12:00 S/G)
Tee Times
Hillendale Country Club – August 17, 2018
12:00 Shotgun
Nancy Pivec

Ron Winaker

Deb Watkins

John Davidson

Maggie Matheny

Jim Matheny

Stephanie Kafonek

Dave Kafonek

Bonnie Fry

Don Fry

Rebecca Krimski

Drew Krimski

Geri Smyth

John Smyth

Pat Erdly

Dale Erdly

Norma Toal

Thad Toal

Sandy Loys

Frank Loys

Penny Goode

Grey Goode

Gail Blauvelt

Pete Blauvellt

Debi Rothstein

Richard Rothstein

Susan Aronoff

Artie Aronoff
Results
Results Will Be Posted After Event
8/20 — CAVES VALLEY - Greiner Titleholders Tournament - RAIN DATE
Tee Times
CAVES VALLEY – GREINER TOURNAMENT – 8/20
FRONT
BACK
9:00
Lisa Kaufman

Bonnie Fry (S)

9:00
Denise Cooper (S)

Sally Ratcliffe

9:10
Katie Wille

Tara Coates

Lora Fioretti

9:10
Ilene Garten

Susan Aronoff (S)

Becky Rutherford

9:20
Tina Thomas (S)

Judi Hans (S)

Nancy Pivec

9:20
Debi Rothstein

Cari Kramer

Amy Passen

9:30
DebWatkins (S)

Sandy Loys

Barbara Cooper
Results
Results Will Be Posted After Event
8/21 — BCC West Course
Tee Times
DATE:             August 21, 2018                                 COURSE:       Baltimore Country Club
Chairman of the Day:             Audrey Thomas
| | | |
| --- | --- | --- |
| TIME |   |   |
| 7:45 | L. Kaufman | T. Coates |
| 7:52 | D. Olfson | N. Councill |
| 7:59 | T. Song | G. Smyth |
| 8:06 | M. McCauley | T. Thomas |
| 8:13 | L. Zukerberg | B. Cooper |
| 8:20 | D. Rothstein | D. Carton |
| 8:27 | B. Fry | K. Allen |
| 8:34 | M. Cupo | B. Christman |
| 8:41 | P. Bryant | M. Thursby |
| 8:48 | L. Duncan | T. Bosica |
| 8:55 | J. Mulcahey | A. Dixon |
| 9:02 | C. Owens | J. Hans |
| 9:09 | C, Kramer | A. Passan |
| 9:16 | J. Clark | G. Grem |
| 9:23 | D. Watkins | J. Choi |
| 9:30 | J. Tansey | A. Owens |
| 9:37 | P. Wong | J. Waldman |
| 9:44 | S. Kafonek | C. Keehn |
| 9:51 | D. Aichroth | R. Lavin |
| 9:58 | J. Edington | B. Farr |
| 10:05 | K. Wille | B. Rutherford |
| 10:12 | M. Braun | L. Schneidereith |
Results
Results Will Be Posted After Event
8/28 — Rolling Road
Tee Times
DATE:             August 28, 2018                                 COURSE:       Rolling Road
Chairman of the Day:             Roberta Lavin
| | | |
| --- | --- | --- |
| TIME |   |   |
| 8:00 | D. Rothstein | L. Kaufman |
| 8:08 | A. Thomas | L. Roebuck |
| 8:16 | T. Song | K. Murray |
| 8:24 | P. Bryant | J. Mulcahey |
| 8:32 | G. Smyth | M. Thursby |
| 8:40 | S. Sosnowski | B. Farr |
| 8:48 | B. Cooper | L. O'Donnell |
| 8:56 | J. Winchester | E. DiCicco |
| 9:04 | A. Owens | D. Olfson |
| 9:12 | C. Keehn | J. Hans |
| 9:20 | J. Tansey | T. Aylsworth |
| 9:28 | R. Lavin | K. Sastura |
| 9:36 | B. Fry | R. Gaeng |
| 9:44 | S. Kafonek | P. O'Donnell |
Results
Results Will Be Posted After Event
9/4 — Winters Run
Tee Times
Tee Times Coming
Results
Results Will Be Posted After Event
9/11 — Chartwell Country Club
Tee Times
Tee Times Coming
Results
Results Will Be Posted After Event
9/18 — Hobbit's Glen (play in Foursomes)
Tee Times
Tee Times Coming
Results
Results Will Be Posted After Event
9/25 - South River
Tee Times
Tee Times Coming
Results
Results Will Be Posted After Event
10/2 — Green Spring Closing Scramble (9:30 S/G)
Tee Times
Tee Times Coming
Results
Results Will Be Posted After Event